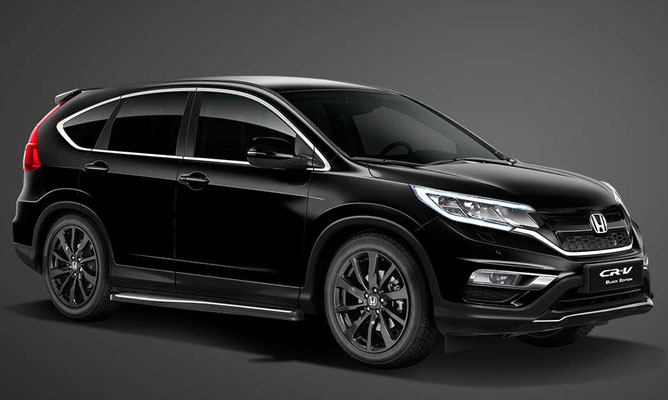 New Black Edition trim adds some bling to the Honda CR-V, but it's expensive and some rivals are better equipped for the money.
Fashion & Practicality
This 4×4 has an extra touch of style which combines fashion, practicality and affordability. This model has a black color which gives a touch of elegance and a unique look which fits in with the trends. It's a welcome touch and look as the last model was a little bland.
Black Edition Gets Host of Changes
This new edition has changes made to the bumpers, wheels and the paint with leather seats and floor mats that have a unique look as well as special skid plates. This black look is becoming a popular theme in the sports models in other companies as well as Honda. This particular model has sporty running boards and a black grille with a gloss finish as well as badging on the boot lid. These all add to the sporty look on the model as well as a touch of bling.
These touches make the model much more attractive although there is only a 4×4 model available. There are both petrol and diesel options available. When it comes to style and look the Honda gets an impressive rating, however there are some areas where it seems that this model has just bitten off more than it can chew.
Problematic Gearbox
The nine-speed automatic gearbox seems great at first, however when using the car, it seems that the Honda struggles with changing multiple gears one after the other and gives across the feeling that Honda have just added to many ratios which will slow things down making drivers frustrated.
Not So Much Fun to Drive
It looks fun but the drive doesn't seem to be much fun at all. Reviews tell us that the steering is too slow to be sporty and there is too much body roll. The big wheels may look good but they don't feel good while driving and the noise this model makes is much more than other cars costing the same amount. The diesel version costs 34,000 pounds which is not less than a Jaguar F pace. The Jaguar is the current car of the year and this Honda doesn't have the best reviews so it's not much for a competition.
Low Cost 4×4
When we weigh up the positive and not so positive of this Honda model we see there is both good and bad. The deal maker when it comes to this particular model will most likely be the fact that some black edition models can be bought with 0% finance. The monthly payments mean this CR-V beats rivals and with the biggest issue today being the costs of models this is definitely an incentive for buyers.
Reliable & Practical
The current version of the Honda CR-V is in its fourth generation and like the last model it's not a go anywhere SUV, but rather a reliable and practical family car. The most attractive thing about the CR-V is its big boot; however the car's refinement and economy are impressive too.
The crossover sector is crowded and the CR-V faces a tough competition, however Mazda CX-5, Hyundai Tucson, Kia Sportage and Ford kuga don't come close to CR-V's classy back seats, spacious boot and huge interior.