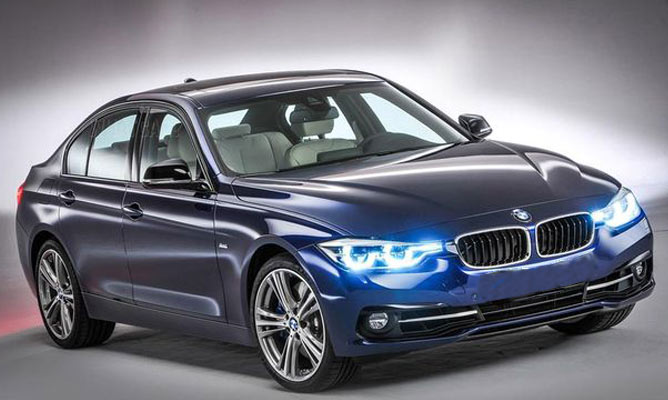 The refreshed version of 2015 BMW 3 Series now boasts luxury specs
With not a much of difference in the appearance, the all-new BMW 3 Series is now available at UK dealerships. Like all other auto makers, BMW has also changed the headlamps, bumpers and the LED daytime running lamps of its range. But that's not all what really these new Threes are offering, with their brand new engines, they are cleaner, and undoubtedly, more refined and agile.
What kind of engines they are boosting?
In the diesels, the 320d, paired with either a manual or an automatic, now emits 106g/km. Producing the same amount of torque, the 320d ED (EfficientDynamics) version emits just 99g/km, but there is a slight reduction in the acceleration and it also lacks the power a bit. This one is paired with an automatic gearbox, whereas, the manual six-speed version emits 102g/km.
On the other hand, the 316d and 318d, with their four-cylinder engines, emits less than 110g/km when paired with an automatic or manual gearbox. It's the 330d engine which remains unchanged for now.
Have the changes been made to the petrol versions too?
Yes! The petrol versions as in the 320i, gets a turbocharged four-cylinder engine which delivers 181bhp and the 330i is powered by a 248bhp engine of 320i. It takes only 5.9 seconds to get the vehicle to 62mph from a standstill.
The 340i is now replacing the 335i and gets an all-new, turbocharged six-cylinder engine, with 322bhp, it is potent enough to get this beauty to 62mph in just 5.2 seconds from the standstill. The CO2 emissions are 152g/km when it is mated with an automatic gearbox.
How much will they cost?
According to the recent prices that BMW has announced, the 316d will start from £27,435, the 318d will start from £28,685. The most popular 320d starts from £29,785 with Sport version starting from £30,085 and the xDrive at £31,285.