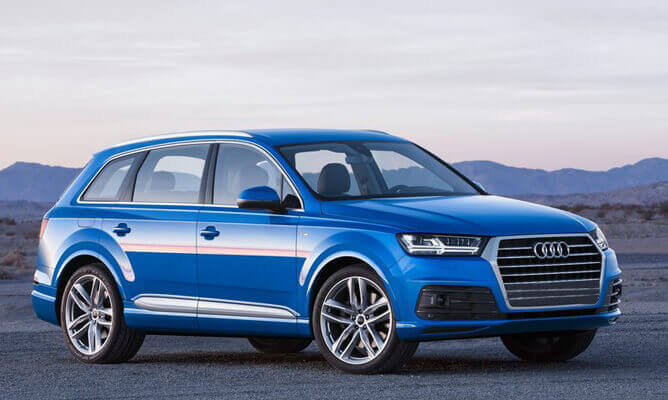 Audi Q7 crossover blends in with entire range of Audi line-up, it shares a bit with everyone
Germans are in the SUV segment since ages but Audi joins the group in 2005 with a full size crossover SUV at Frankfurt Motor Show.
It was Audi Q7 received a bunch of new tweaks and received new engine line-up for 2017 model year. There are both diesel and petrol powertrains available with massive displacements and power levels.
Audi Q7 engine range
Audi offers a massive Q7 engines line-up starting from 3.0-litre V6 to a massive 6.0-litre V12 and you can imagine the power of these monsters from their sizes. In the 2016 Audi Q7 engines, Germans are introducing highly revamped engines. There is a 4.0-litre TDI diesel engine introduced for 2016 model.
Audi Q7 4.0-litre TDI engine
The all new Audi Q7 TDI engine is a V8 diesel engine capable of generating the power punch of 429bhp with a pushing power of 665lb-ft of torque from as low as 1000rpm to 3200rpm. A turbocharged common rail fuel delivery makes it even efficient and better to drive with the taste of diesel because diesel engines are best known for their torque delivery and efficiency.
It manages to pass the 62 miles per hour in just under 5 seconds and keeps pushing it up to 155 miles per hour. When it comes to fuel economy, the Q7 is a suitable vehicle for city cruising but it returns well over 30 miles per gallon on average and makes the Q7 an appealing SUV of all times.
New technologies
Let's start from the engine refinements where Audi has introduced world's first ever electric powered compressor to aid the other two turbochargers to achieve the elevated power levels. The configuration of the turbochargers eliminates the turbo lag and offers smooth and powerful acceleration from the moment you push it a bit harder.
The all new Audi Q7 offers lightweight construction, sport differential and electromechanical active roll stabilisation system. The most important is that the new Q7 will arrive with 24 new drive assist systems when it will be launched at the end of this year.