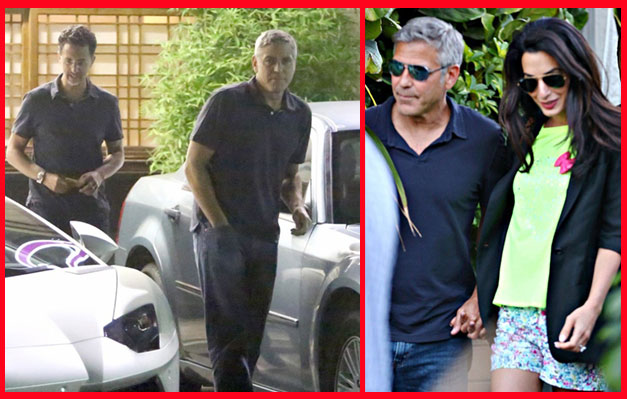 After winning three Golden Globe Awards, George Clooney is all set to win Amal's heart even more. Spotted checking out Lamborghini Aventador in shiny white colour, wondering if this would be the wedding gift
When you talk about Hollywood actors having class and enjoying fame, winning three Golden Globe Awards, one name pops up and that's George Clooney – and when you talk about the supercars in the same context, you get the Lamborghini Aventador. Last Friday, famous Ocean's Eleven series actor was spotted exiting Asanebo restaurant and checking out a Lamborghini Aventador in shiny white colour.
Clooney 53, has recently been engaged with 36-year old British-Lebanese Amal Alamuddin, a human rights lawyer. Rumours about their wedding date have created quite a stir in the Hollywood and above all, he is even thinking of becoming a political leader and leaving his acting career behind after winning Oscar twice.
The inside sources say that Clooney most probably will join the 2016 election campaign from the Democrats. His parents were also into politics so it really is not far-fetched for the Clooneys.
We all knew that George Clooney was once a proud owner of Tesla Roadster which he then auctioned off for a charity. He officially admitted that he does not like the car anymore and told in an interview with Tom Junod from Esquire, "I had a Tesla. I was one of the first cats with a Tesla. I think I was, like, number five on the list. But I'm telling you, I've been on the side of the road a while in that thing. And I said to them, 'Look, guys, why am I always stuck on the side of the f*****g road? Make it work, one way or another."
So for his love for supercars is pretty inevitable and he definitely would love this 700 horsepower Lamborghini Aventador with a mighty V12 engine, so powerful and fast that it will take only 2.9 seconds to reach the 62 mph. If anyone of you remembers his movie Gravity, in which Clooney was floating in the space, this supercar will give him a lifetime experience. As far as the £239,192 price tag is concerned, we are sure it would not bother him a bit.