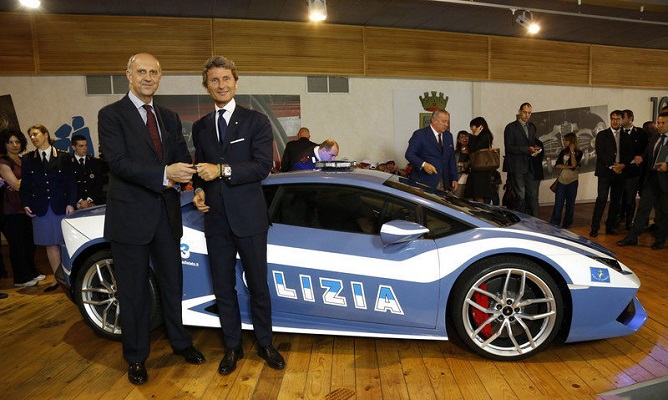 The Dubai police are the first one to equip its department with hi-end super fast cars, now the Italian Polizia has the 2015 Lamborghini Huracan as cop car
As everyone knows that the Dubai Police Department has the crown of having a whole squad of supercars but who knows the second police department using this supercar? It is Italy! a very few of us know that the Italian State Police is the next to have own a 2015 Lamborghini Huracan LP 610-R with 5.2-litre V10 engine, which looks pretty awesome by the way wearing Polizia livery.
Today, the President and CEO of Lamborghini, Stephan Winkelmann, has handed over the keys of first Huracan to the Italian State Police in ceremony held in Rome. Now you can imagine how lucky that State Police Officer would be, whose going to get this one of kind Cop Car.
The Italian Police does already have 2009 Lamborghini Gallardo LP560-4 at their disposal but this newest and best looking iteration is a rear thing to behold. This new Huracan and the one coming later will be replacing the Gallardos being used by the government since year 2004 and 2008.
As Italy is the home of supercars, this newest member of State Police Department would serve as a super effective tool for crime prevention and as an imperative herald to all would-be lawbreaker who think they could break the law and outrun the justice in a high-speed hot pursuit, beware then, this beast is capable of doing a sprint to 62 mph in just 3.2 second and has a top speed of 202 mph.
One more thing that would interest you, this police car is not just only equipped with a police radio, gun holster or LED light bar up top, but it also include a 'defibrillator' and a state of the art refrigeration system which would be used to transport live organs to save precious human lives.
This all new Lamborghini Huracan is a beast on the outside but an all-heart darling in the inside.