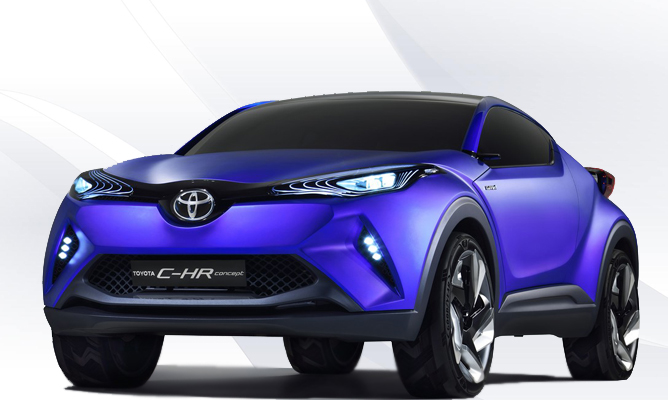 Toyota C-HR is gearing up to handle the competition from Nissan Juke and will start from Paris
Toyota previewed its all new C-HR concept last week and confirms that the concept will debut at Paris Motor Show but the auto journalists were unable to get more on the vehicle.
Toyota did not discussed in detail about the all new C-HR. only shape of the front and headlights was discussed. Our journalists managed to get finalised images of the new C-HR that envisions a Hybrid crossover Coupe.
The all new C-HR Hybrid crossover has angular styling and it will rival its Japanese competitor Nissan Juke.
It is an extra sportier version of crossover than a Toyota RAV4, and the future Scion FR-S would look like C-HR if you ride it on a jacked suspension system. It has a revelling roof and radical lights however door handles are not there.
Being a Toyota concept, it has a powerful Hybrid powertrain because several Toyota models are riding the best Hybrid powertrains.
Toyota denied to reveal any details about powertrain before the Paris Motor Show next month. Keep in touch with us because we'll look forward to bringing you more from Paris Motor Show.