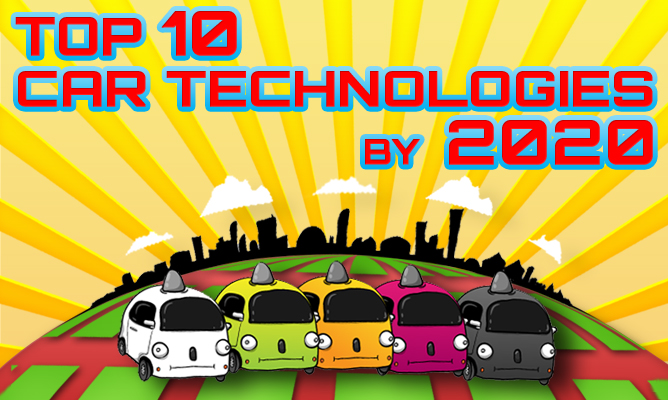 Technology is dominating the car world and more new car technologies we are likely to see by 2020
We've been attending the motor shows around and what we have observed so far is that the technology in the automotive industry is dominating the world at a rapid pace. Almost all the major automakers are presenting their futuristic vehicles, fully equipped with ultra-high-tech features.
For instance, take the Mercedes-Benz who showed their F015 Luxury in Motion concept car, which undoubtedly, is pretty amazing in its own. Others like the Volkswagen, Infiniti, BMW, Ford and Hyundai are also doing well, here one thing is clear that many of these technologies might take a bit longer to be implemented, but few of them are just around the corner or already have entered the showrooms.
1. Autonomous Vehicles
We are seeing so many autonomous vehicles now-a-days, but they are not fully auto, still need human assistance. But by the next five years, they will go anywhere on their own.
2. Driver Override Systems
In the near future, the cars will be having more control of the drive than human beings, as they could easily override drivers command and will try to avoid an accident at any cost possible. It will apply the brakes if you fail to do it in time.
3. Comprehensive Vehicle Tracking
Some state governments and many of the insurance companies are tracking driver's behaviour, some with the consent of the drivers for now, but in the future, they might force everyone. But still, tracking will be a must.
4. Biometric Vehicle Access
In recent years, car entry has evolved from keys to keyless entry and now it is moving towards key-fob-less entry where you'll be able to enter the car with your fingerprint or even retina scan.
5. Remote Vehicle Shutdown
This technology is still in use and has been proven effective in ending the police chases, shutting down stolen vehicles, but in 2020, majority of the population will reap the fruits of this very useful feature.
6. Active Window Displays
Almost 20 years ago, modern cars had green digits projected on their windshields but thanks to the Head-Up-Display – also known as HUD – technology, those fuzzy digits are gone. By the year 2020, we'll be having active glass which will be capable of displaying very vivid images.
7. Reconfigurable Body Panels
Most of the people love to have an expensive car along with a mighty SUV but what if they could have both of them in one bodyshell? Well, that will be possible in the future with the reconfigurable body panels which will transform a car into SUV.
8. Active Health Monitoring
Some of the automakers are working on some kind of sensors that will track your vital statistics and call the paramedic or emergency services once they notice the driver is having a heart attack. Meanwhile, the car will be parked automatically to avoid the accident.
9. Personalised In-Car Marketing
All of you who are using smartphones are getting Gmail, Facebook and Twitter ads according to your behaviour. The same technology will be used in the cars when they will be fully integrated and connected to the internet, it will be a great thing for the marketers to target individuals with their customised messages.
10. Four-Cylinder Supercar
Sometime back, Ford has introduced an all-new GT supercar with lightweight body and a twin-turbo V6 engine. Use of carbon fibre body is brilliant and this churn outs over 600 bhp which is pretty amazing. In future, these cars with four-cylinder engines will go 200-plus mph which would be world-beating performance for sure.