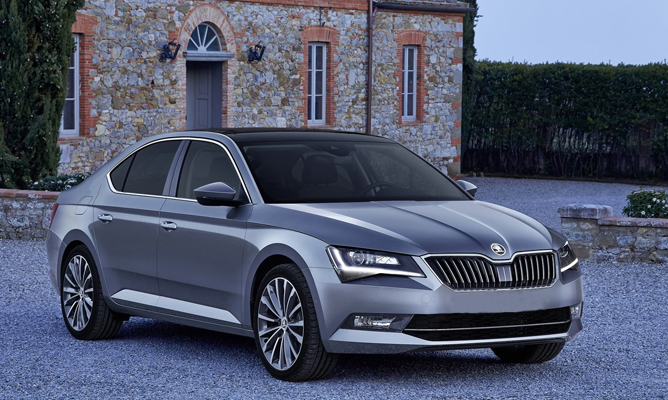 Thriving engines have made this vehicle a good choice for family cars
New dashing style and improved body design have brought the paramount difference to the outgoing model. Space is more than enough and buyers remain satisfied with their decision in favor of this vehicle. Safety has been given due importance and new technology is found in this model to ensure the protection of occupants of the cabin.
Experts have noted possible concern of owners regarding warranty that is limited to three years. An affordable big family car with the feel of the opulent class is the real advantage. While driving is enjoyable because of engine refinement, comfortable traveling for both rows and thrilling speed with adaptive dampers of sports mode.
Another important thing for a family car is boot space and here too you would not be let down by the car maker. Interior space has been made a lot practical and material used to build it is also able to give you nice feel thoroughly. Skoda Superb engines offered in the range are not only thriving but fuel efficient as well.
 Third generation car seems most successful
The car is now in its third generation and the first one was introduced in 2001. Over the years it has evolved into a good competitor in premium saloon segment. Spacious cabin offers as much legroom to second-row riders as enjoyed by the front seat occupants. Similarly, boot space is also enough for big bags and other luggage.
Total space is 1760 litres that could easily hold baggage for all riders. The range of four cylinder diesel engines is mainly known for their low running costs so you can easily plan for long distance destinations. To put these machines into action you can choose either manual or automatic gearboxes. Options for front wheel drive and all wheel drive also available that can be selected according to driving tracks.
Superb is a saloon at affordable price
In 2016 it was declared as family car of the year because of a good number of standard technology features, five-star safety ratings, and appealing exterior. It is flagship model of the company and the name suggests that it is a marvelous product.
It has been designed to give buyers an option that is quite close to perfect. All that has made it more attractive with a price tag that is very much affordable. This saloon is quite capable of competing with leading big executive family cars. Body weight has also become less than the predecessor to increase nimbleness through dimensions of the car have increased.
Use of modern technology to improve features
Carbon emission has been lowered by using modern technology and lesser tires' rolling resistance with aerodynamics help to manage fuel consumption. Five trim levels are offered to make it more suitable even though standard equipment and cabin practicality are tremendous.
You get umbrellas in door pockets and you also find ice scraper in the car. With a lot of modern-day features, the company has been trying to provide an executive limousine to car buyers at a price that is unexpectedly cheaper.