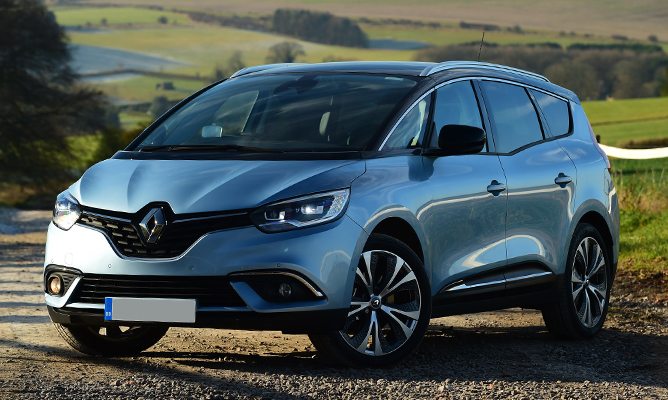 Economical, luxurious and practical MPV is this, the Renault Grand Scenic
Latest Renault Grand Scenic is available with lots of improvements and refinements
There is no scarcity of MPVs in the automobile market, but there are some vehicles with elegant stylish body structure, perfect engine range, practicality and plenty of features. Latest Renault Grand Scenic MPV is one of them with all these qualities in it. Renault has tried its best to compete the market with top most brands as it has Grand Scenic. Plenty of features and equipment are available here in this vehicle. Experts really appreciate its new refinements and improvements in previous model. Latest Scenic may leave behind some of its competent rivals like Ford Grand C-Max, Citroen Grand C4 Picasso and Vauxhall Zafira Tourer.
Interior is fully loaded with useful features and equipment
If we compare its interior with other MPVs of the day, then we must say Renault really did well with its MPV. There are plenty of features excellent in operation and working and easy to read and use. Its interior is wide, open and airy with plenty of natural light come into through the glassy panels.
Its outer visibility that is absolutely good due to wide, flat and curvy front wind screen. Dashboard is full of useful features and center console is equally good. Infotainment system is excellent. Seating arrangement is nice with one touch rear seat folding system. Interior is excellent with good practical approach.
Engine range is very vast for Renault Grand Scenic
In petrol engine category, there are other good options available but expert's pick is its 1.2-Litre TCe petrol unit that is capable of 128bhp and 151lb/ft torque. It is good in performance with top speed of 108m/h and it takes 11.5 seconds to reach from 0-62m/h. Its fuel average is 45m/g along with 135g/km of Co2 emissions. It is fitted with six-speed manual gearbox and front-wheel drive as standard.
In diesel engine category, there is a 1.6-Litre diesel unit that is the most competent engine in the whole range. It is capable of 157bhp and 280lb/ft torque.
It is good in response and takes 10.6 seconds to reach from 0-62m/h with top speed of 120m/h. Fuel average is really impressive with 60m/g and 122g/km of Co2 emissions. This engine is available with six-speed automatic gearbox and front-wheel drive as standard.
Hybrid engine is also available in Renault Grand Scenic. It is coupled with a diesel engine with capacity of 1.5-Litre. It is capable of 108bhp and 192lb/ft torque. It is good in overall performance. It gives 80m/g of fuel average with 94g/km of Co2 emissions.
Safety and reliability
Renault is a world renowned name in automobile. Its products are of good standard with good competition sense with others. Its Grand Scenic is an MPV with plenty of safety kits in it. There are standard airbags with side curtains, adaptive cruise control with stability control.
Traction control is also noteworthy. Anti-lock braking system is accurate in working, parking sensors, service indicator and lots of more you can find in this vehicle. It has secured five stars from Euro NCAP crash test. Renault assures its client that it is a powerful vehicle with very good balance and reliability.