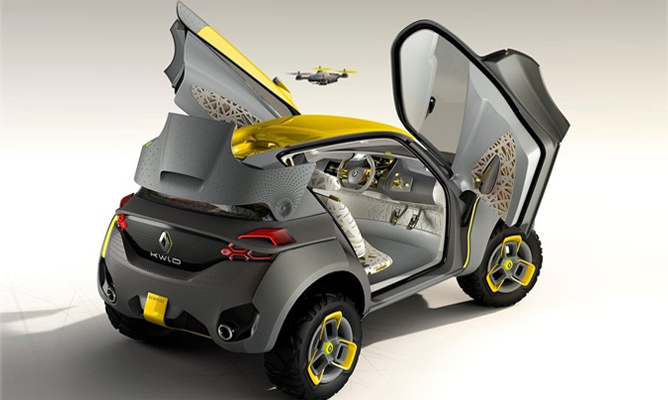 The Flying Companion by Renault – Drone In A Car That Makes Driving Fun
Whenever you are driving on the motorway and you get stuck in the worst kind of traffic jam, you don't know how and when you will be getting out of it, the only thing you need then to have someone scout the traffic conditions. As this happens to the motorists everyday, Renault has made public its new crossover concept with a built-in drone. Yes! A crossover having its own drone that will go ahead and scout the traffic conditions, while doing so; it will also take the pictures and send them back to the car.
Renault has given this concept vehicle the name, KWID. Under the roof this stout vehicle has a built-in hanger which holds Flying Companion, the drone with a camera. At this stage the drone is pre-programmed to scout only the specific route, while its on patrol it will also determine car's position through GPS. Manual operation for drone is also available which can be done by the passenger using a tablet based controls. This will enable the passenger to explore environs for car and have a look at the photos. Some people may call it a far-fetched dream but Renault is more concerned about the younger customers who like to have fun while driving.
There is no better way to enjoy a journey than having all the latest toys and gadgets at your disposal. This technology enables the passengers to deploy the aircraft from a hinged cover that is on the back edge of the roof. A 1.2-litre turbocharged petrol engine is used to power the KWID mated to a dual-clutch transmission for a smooth drive. The interior of this vehicle is also work of art; as for the first time a touch-control gear shift rather than conventional lever-controlled is used. There is a big display screen on the dash which is capable of doubling itself as a connected-car services centre.