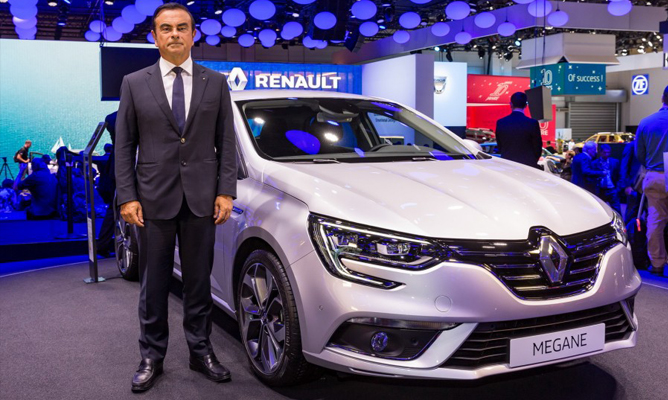 The new Renault Megane replacement gets a high dose of technology to attract customers back.
The all new Megane will go on sale in 2016 and will be looking to attract company car users as well as families in search of a new car.
The Changes
Renault has taken out the three door version from its lineup and instead is focusing on five-door model and an estate.
The loss of the three door model is made less by giving it a sporty overtone with a new GT-Line trim level and a warm GT version from day one. It will be followed by a hot hatch model in mid-2017.
Lower Sales Volume
Renault has admitted that its family hatch sales were much lower than expected as its showrooms shifted fewer than 9,000 cars this year. These sales figures are very low as they were selling 45,000 per annum in 2005. The sales of the new Megane are expected to far outstrip the current model.
New Styling
The 2016 Megane doesn't have a new radical styling, but it adopts a more mature and lustrous look.
The car is longer, lower and wider than the previous versions which makes it look on a mission to impress buyers. The GT-Line gets sportier front and rear bumpers.
Petrol Engine Range
Renault's existing line-up provides the engine for the new model. The petrol starts with a 1.2 litre which gives 100bhp or 130bhp and goes from 0 to 60mph in 10.6 seconds with 53.3mpg.
It is then followed by a 1.6-litre which churns out 115bhp or 250bhp. The 205bhp engine forms the basis of the GT, capable of the 0 to 60mph sprint in 7.1 seconds and a top speed of 144mph. All these engines are mated to a seven-speed automatic gearbox.
Diesel Engine Range
The diesel engine range starts with a 1.5 litre which churns out 90bhp or 110bhp. Then there is the 1.6 with 130bhp or 165bhp. The 130bhp has a good and smooth power delivery although engine noise becomes decidedly intrusive.
If economy is what you are looking for, then diesels offer a better choice. The 90bhp gives 76mpg and still has a 0-to-60mph time of 13.4 seconds while the 110bhp is the ultimate eco choice with a claimed 85.6mpg. The manual gearbox in the 130bhp diesel increases the level of fun immeasurably.
Well Laid-Out Interior
The seats are brilliantly laid out and comfortable. The dashboard is made from high grade materials. The large upright screen in the centre of the dashboard sets the car apart from its rivals.
The technology on offer in the new Megane is impressive and this vehicle has the potential to become a class leader.