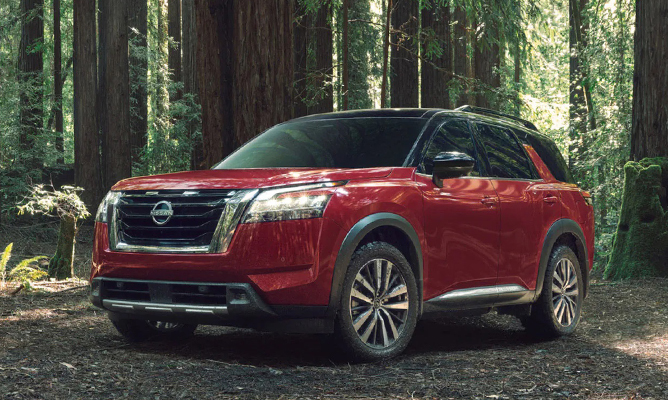 It is large, and its size provides excellent comfort and elegance in the interior
The Nissan Pathfinder is a large SUV with a stylish design and a spacious and comfortable cabin. It's constructed tough, and the Nissan Pathfinder's seven-seat capacity is fantastic. It offers a stylish design and appeal, as well as excellent functions and functionality. Performance is enhanced by powerful engines.
It performs well on rocky and uneven surfaces because of its strong ground clearance. It has excellent AWD capability and responds quickly. Even though it is an ancient vehicle, it competes with today's worthy opponents such as the Land Rover Discovery, Jeep Commander, and Toyota Land Cruiser. It is large, and its size provides excellent comfort and elegance in the interior.
The performance of a good and powerful engine range is fairly reasonable
There are multiple models and outputs of the 2.5-litre Pathfinder Diesel Engine, and it features a single V6 4.0-litre petrol engine beneath its huge and broad hood. A V6 petrol engine is the best option for this large vehicle. It has a displacement of 4.0 litres and produces 265 horsepower and 284 pound-feet of torque.
It has a quick response time of 8.5 seconds from 0 to 62 mph, with a peak speed of 120 mph. It emits 320g/km of CO2 with a respectable fuel average of 35. It comes equipped with a five-speed automatic transmission and four-wheel drive.
The number of features and equipment is abundant, and the quality is excellent
In terms of equipment and features, it is excellent. The features are of high quality and are reasonably priced. Nissan Pathfinder is a heavy-duty SUV with a lot of promise. It comes with a lot of excellent features and is quite practical. It boasts 3×3 point rear seat belts, anti-lock brakes with electronic brake distribution (EBD), several alarms and indicators, an audio remote, roof rails, satellite navigation, and LED headlights with washers. LED taillights, leather seats and dashboard, lane departure warning system, service indicator, and steering wheel rake and reach adjustment are just a few of the features available. Safety features are also of high grade. Even over hilly and rugged terrains, its endurance, dependability, and stability are excellent.
The quality and construction of the outside and inside are excellent
The Nissan Pathfinder boasts a large appearance and a comfortable interior. It's constructed to be tough on the outside. Stylish, but suffocating and heaving. In comparison to other SUVs, the uplift body construction makes it more robust. The front, rear, and sides are all in good shape. It has a stylish tail.
Extra glass panes with terminating pillars provide the impression of roughness and openness. The inside is beautiful, with high-quality furnishings. Although the dashboard is simple in design and structure, the functions are excellent in terms of use and performance. The spacious interior is broad and open, with plenty of room. The seating arrangement is excellent and very functional. It has a large amount of boot space.
Engines available in Pathfinder
The all-new Nissan Pathfinder is available with two engines, the first of which produces 265bhp from a 4.0 litre V6 petrol engine and the second of which produces 174bhp from a 2.5dCi diesel engine, both of which provide enough performance in the Nissan Pathfinder. Diesel engines are known as torque generators since every 4×4 requires more torque than horsepower, and Nissan has thankfully included diesel engines on the Pathfinder.
You can be sure to discover the cheapest reconditioned Nissan Pathfinder Diesel engines across the country. The diesel engine, out of the two engines available on the Pathfinder, has the lowest operating expenses and has proven to be the most practical option. It has lots of low-rev power, but its efficiency numbers aren't particularly impressive.
It takes nearly eleven seconds to accelerate from a standstill to 62 miles per hour, with a peak speed of 109 miles per hour. A power boost was given to the 2.5-litre diesel engine. When combined with the six-speed manual transmission, the 190bhp engine reduced the time from zero to 62 mph to just under eleven seconds, while the top speed increased to 115 mph.
Surprisingly, the automatic performs a better job of shifting between speeds up to 62 mph. The 2.5-litre turbocharged diesel engine is the only actual engine replacement in the Nissan Pathfinder right now, and it's the smart one for fuel economy and pollution.
The Pathfinder competition in the UK market
The Pathfinder competes with Land Rover's Discovery in the UK market, however that car is currently priced in the above class. In the UK and across the world, Nissan now competes with the similarly tough Mitsubishi Shogun and the merciless Toyota Land Cruiser. Nissan has stiff competition in the UK market, but the company has a manufacturing base in the country that allows it to serve the whole European market as well as the UK market.
Trims of the Pathfinder
The Pathfinder isn't the only trim; it also comes in two more flavours: Acenta and Tekna, with the Trek having a six-speed transmission. All-New Nissan Pathfinder models have seven seats in a 2-3-2 configuration. The most popular and fast-moving grade, Acenta, has 17-inch alloy wheels, rear glass, a rear hatch chrome grille, roof rails, and colour-coded side mirrors.