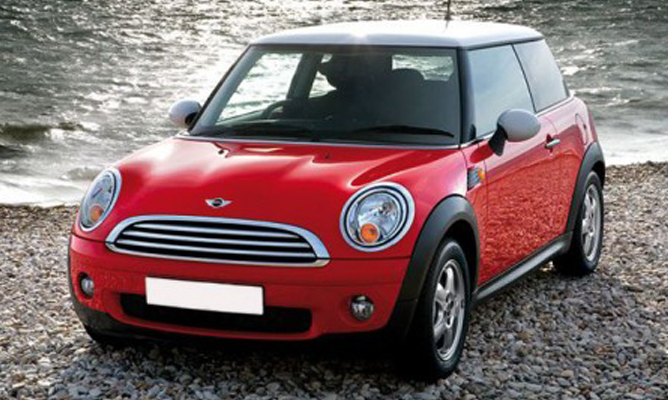 Variety of styles and plenty of options for people buying it
With option of two or four doors Mini Cooper has been doing well in small car segment. When you get hands on steering wheel and push accelerator you get to know the class it falls in. All wheel drive is present as an option to enjoy off road as well. Body styles also vary so you can choose the most suitable one quite easily. Base level engine power is very enviable for competitors and price is also high.
Unique exterior and superb handling place Mini Cooper above many options in the same category. Cabin has improved a lot over the years and now the latest car model offers much practical space than ever. Exterior was also upgraded couple of years back but the look remained identical to previous versions.
The variety it offers is another advantage that is not case with many contesting with it. Three turbocharged engines are present in the range and it begins with 1.5 litre three cylinders capable of 124hp. This output is enough to prove the claim of fun to drive right.
Engines are powerful to make driving real fun
Next in the Cooper engines is 2.0 litre of S model that produces 189hp. With increased capacity you will certainly be happy to push speed pedal. Turbo-4 2.0 litre is at top of this range due to 228hp with six speed transmissions either manual or automatic and buyers can select the gearbox for any of the engines.
When exterior was redesigned in 2014 dimensions of the car were also increased to manage more space inside the cabin. That increase varies from style to style and one of them can easily be called a maxi rather than a Mini.
Buyers can select from wide range of optional features
Improvements can be made as well as inclusions of features but for everything you need to pay. Standard features are quite reasonable like six inches screen on dashboard and Bluetooth connectivity. Sport package has included some great features to make it great in appeal.
Adjustable dampers and ride quality has been focused and delivered. But to add rearview camera the buyers still need to pay extra. A long list of other available features is other than these so you can customize your Mini. From base level to the top of the range package price difference is quite big.
Cabin has been made more comfortable
Most of the changes have been made to the cabin and these are intended for better of the riders. You will find nice layout and it has been done after a number of years. Display screen is of different size in every trim package and air vents are on both sides.
For second row air vents are on outer edges of dash like most of interiors. With addition of many good features the flawed areas also have been removed so you would feel real time difference while riding. The major difference between Cooper and other mini sized cars is liberty to make it your own with inclusion of features of choice.