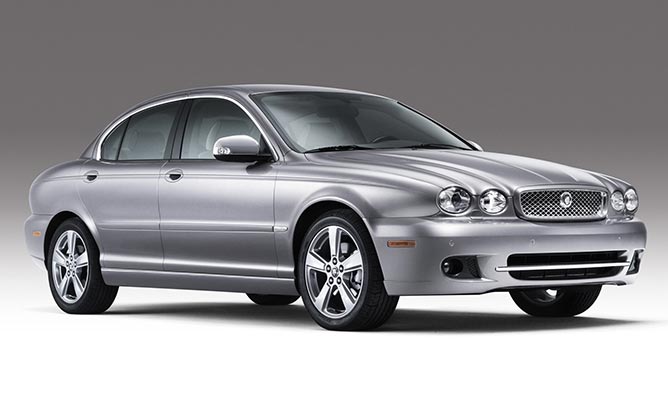 In 2003 diesel engine Jaguar X-Type was launched and people like it for its power and frugal nature
Jaguar X-Type is another distinctive and stylish car from the British manufacturer. It is known for offering the most eye-catching exterior of modern cars. Jaguar has also excelled in terms of engine power, performance and cabin excellence. This carmaker has always been keen to enhance the quality of features to be as good as top choices in the segment are.
This pursuit for the best let Jaguar keep improving and meet modern-day needs. Sharp handling of the Jaguar X-Type is the best quality you feel while driving the car. Moving in bends and on twisting roads is a great experience due to the possibility of making turns with the least body roll.
This car was launched in 2001 for the first time. An early model of the car was not impressive and there was no diesel engine option for buyers. Later diesel engine was made part of the range. There is a lot of good qualities in the car and a spacious cabin with a generous boot area is one of them. Car engines can stop working properly and owners look for Reconditioned Jaguar X-Type engines for sale.
These units are present in the market at an affordable rate. New engines are not possible so only used car engines are the option of replacement. In 2003 diesel engine Jaguar X-Type was launched and people like it for its power and frugal nature. This sedan faced challenges from luxury German brands like BMW 3series. This car has its look and feels so many buyers like Jaguar X-Type only for its distinctive styling.
On the other hand the V6 petrol unit
Jaguar X-Type came with different power units and the 2.2-litre diesel unit proved the best. It has a good balance of power and fuel economy. People do not just consider the price of a vehicle but running cost equally important. There is another 2.0 litre petrol unit option, which offers better fuel economy and lower emission.
The difference in fuel economy is not significant so the 2.2 litre unit will be a better choice. Now a day different aspects are very important regarding ownership of a car. Carbon emission is one of them and environment-conscious buyers prefer greener cars. On the other hand, the V6 petrol unit is also present and this can be afforded with a deep pocket.
Running cost is quite high but peppy performance surely attract buyers. Four wheels drive option V6 model gives you both performance and traction in harsh weather. Carbon emission is quite high of V6 units and fuel average not more than 25mpg. With these facts, people mostly prefer the diesel unit model of the car over the petrol unit version.
Maintenance and repair of the Jaguar X-Type are not costly. Used Jaguar X-Type is available at a very cheap price and its parts are also present in the used car parts market. Later models of the car are also very affordable and you would like to drive them. Finding a good used car is time taking and arduous job because unless you drive a car you cannot determine its usefulness. A piece of advice from a mechanic is also very handy in this regard.
These cars are bought at a low price
When you have to choose from previous models only then you must look at their features and feedback of owners. Early models of the car were not a big success but a later model of the Jaguar X-Type proved far better. Their build quality has also become good over the years.
Jaguar keeps updating the car to catch up with the best of the segment. Used car buyers have to make replacements to enhance the quality of the cars. These cars are bought at a low price so buyers can afford to spend on their maintenance and improvement. You can find this car in different conditions and their prices also vary.
Some common problems of Jaguar X-Type include door latches failure so you have to see them and most probably need to replace them. The key fob with central locking also needs to be repaired due to a problem in its functioning after years of use. Chrome trim used by Jaguar to enhance its look and feel also become loose so you need to replace it with a windowpane. The engine of the car mostly works well and you do not need to replace it.
The suspension of the car is good
Auto speed transmissions of four wheels drive model of X-Type does not keep functioning smoothly. Engine management warning light system is present in the car and its malfunctioning also indicates a problem with the gearbox. It is a reasonably weighted vehicle so stay solid on road. While moving in tight corners X-Type stays composed to give you confidence.
The suspension of the car is good and deal efficiently with potholes and bumps. Riders mostly remain comfortable unless the size of bumps gets bigger. The steering also became precise and sharper in response. It is up to buyers but this car appears much attractive than routine cars of the segment so people carry on with them. The boot area offers generous space to hold several bags. You also get fog lights and a traction control system in this car. Jaguar equipped later X-Type models with very useful specifications so buyers should consider them.