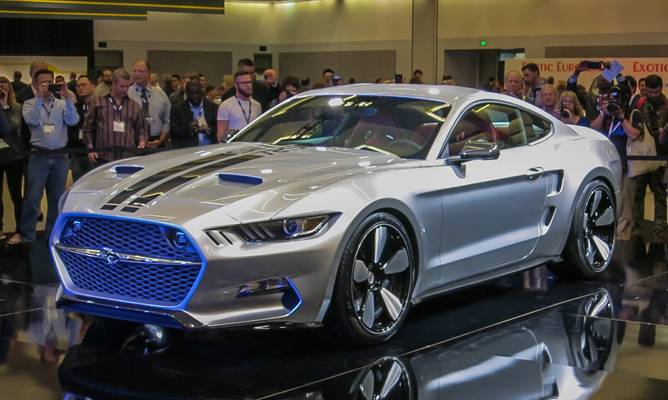 Fisker Motors launches the "ultimate American muscle car."
A highly modified version of the latest Ford Mustang; called Rocket and dubbed as the "ultimate muscle car" by its creators, has been unveiled at the LA motor show.  It has been conceived by former Aston chief designer Henrik Fisker and Beau Boeckmann, boss of LA-based Galpin Motors, the world's biggest Ford dealer. Rocket, which features a Fisker designed all-carbon body will go into low volume production at Galpin Auto Sports, the dealership's customising arm.
The new car will be the quickest road-going Mustangs of all times as it will have a supercharged version of Ford's quad-cam V8 which will take the performance right up there. The price is expected to be around £80,000 to £100,000, depending on spec with production of 100 cars a year.
The project came to life earlier this year when Fisker, met Galpin boss Boeckmann at this year's Pebble Beachconcours and showed him sketches for the proposed super-Mustang. Boeckmann, who was part of Ford's development for the latest production Mustang and rates the iconic Ford as his favourite car of all time, jumped at the chance to "do something really special".
The Rocket, inspired by famous Mustang originals of the '60s and '70s, especially the famous Shelby GT500 of 1968, has its body almost entirely hand-made in carbon fibre with a long bonnet above a set of radical flared arches and special side-skirts, a race-style front splitter and a special hexagonal carbon grille.
The brakes are 15-inch Brembos, and the wheels are uniquely styled and the much modified. Fisker and Galpin say the car is meant to respect Moray Callum's standard production Mustang, which they believe is "an amazing job". Fisker said: "It's so good, I think the design additions and power upgrades we're making can help it play in a higher league, even against much more powerful supercars."