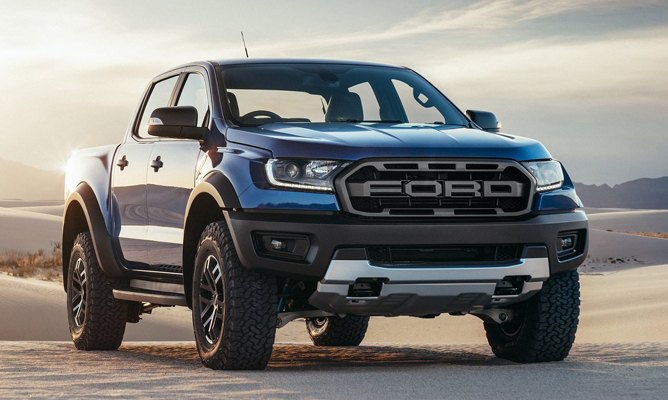 The Most Recent Version has been Developed to Transport Tonnes of Cargo without Regard to Topography
Ford Ranger's current goal is to outsell Toyota Hilux in terms of unit sales. Even though the competition was tight, it forced these two producers to come up with something fresh. The most recent version has been developed to transport tonnes of cargo without regard to topography. However, this was also there earlier, and now it has blended the luxury car's characteristics so that the passengers keep refreshed while riding in this solid-looking vehicle. Three distinct body designs, each with a varied seating capacity, allow consumers to select the best one for their needs. The "Regular" body style has two seats and the "Super Cab" body style has four seats; both are strictly for heavy-duty work, and the five-seat Double Cabin is projected to outsell the earlier two. The last one is more of a family vehicle with the added capability of transporting heavy loads. The engine range consists of two machines, one of which has two distinct outputs.
Powerful engines Pull Loaded Pick-up Smoothly
The range starts with a 2.2-litre diesel engine capable of 157 horsepower, and it clatters inside whether on the highway or when you simply start the engine. It is powerful enough to haul a heavy pick-up and does not make you feel like you are exerting additional effort until it hits 3500rpm. The cabin is somewhat noise proof, albeit not totally, but it is better in comparison. Manual transmissions are not always smooth, but automatic six-speed transmissions are far superior. There is nothing wrong with its capacity to haul big loads, but when it comes across uneven terrain, the riders become unhappy owing to the bouncing ride.
Smooth on highways and bumpy on back roads
The rear axle is more bouncy, although this is typical of all cars of this type. Handling is another issue, and it is true for all pick-ups, as the steering is sluggish to respond and body roll is another issue in achieving required nimbleness. On the other hand, the grip is excellent and it remains stable, making it relatively dependable. The driving posture is essential to purchasers, and Ranger has addressed this issue. The entry-level model features six sides of manual seat adjustment, while the other versions include an eight-way electric seat adjustment option.
Driver Visibility and Driving Seat
The front pillars are intended to allow you to see without obstruction. Another cause for improved visibility is a high driving posture. The rear visibility is not optimal since the screen at the back obscures eyesight. However, rear-sensors, while not a standard feature, may be added in any model if desired. A camera, which is not available in all versions, allows you to see what's behind the car. This time, there is a definite attempt to make the inside of the Ford Ranger look like that of an SUV. As a result, customers will notice an improvement when they enter the cabin, as there are a lot of utilitarian features as well as the use of superior materials.
Engine power is demonstrated by a high load-bearing capability
The load capacity of the space designated for this purpose behind the double cabin is 500kg, which is fairly adequate. When fully loaded, the driver will not feel any strain on the engine and the ride will be easy. Terrain irregularities are also efficiently absorbed by the suspension, resulting in smooth handling and consistent stability. There are rear and front parking sensors for help and security when driving. Extra transport of 2500kg on a hooked up caravan would scarcely create a visible difference in engine function, thus the power of this machine is commendable by all criteria in various regions of the world. With a container, fuel consumption rises by only 4.0 litres, which is quite reasonable.
Modern technological elements aid the driver
Inside the cabin, the owner would have technical tools to help the person in the driver's seat. Some of the key characteristics of this strong road vehicle that make it remarkable include radar cruise control, help to leave the lane without making any mistakes, and a camera to reverse. These characteristics are also assisting it in rising over its competitors. Space is also not a concern, as the cabin has been designed to provide maximum capacity for the riders. The Ford Company's new infotainment system has been fitted, so there is no lack of entertainment. The audio system is powerful enough to complement the most recent system. Cloth upholstery does not fit the grandeur of the vehicle, and neither does manual seat adjustment.
Interior built to provide greater room Higher operating costs may persuade customers to choose one of the cheaper competitors. However, the benefits of this vehicle much outweigh the additional cost. An upscale cabin with comfort owing to excellent suspension is not generally required for a loader truck, but the Ford Ranger will not disappoint the riders. The comfortable atmosphere of the trip has not been compromised whether carrying a load or heavy luggage. Door pockets provide enough storage space for items such as water bottles and other similar items. Cup holders and door pockets are also accessible for second-row passengers, making interior design highly functional.