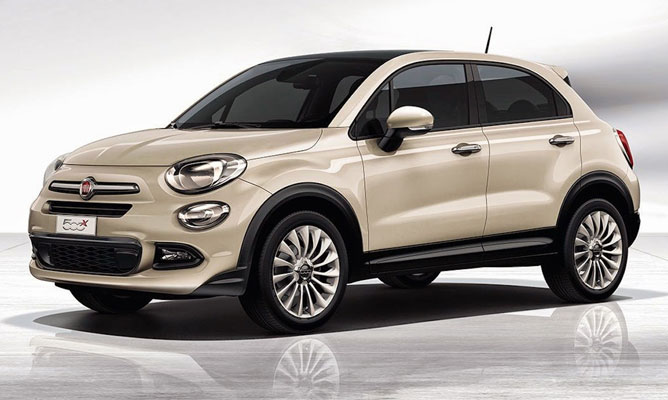 The 2014 Fiat 500X Crossover Revealed
Fiat has unveiled a compact crossover to complete its family of models at the Paris Motor Show. It is based on its popular 500 supermini and named as 500X. It will be available to buy in the UK from the second quarter of 2015 and will fit in the regular 500 and larger 500L specs in Fiat's line-up. There are two new versions of the new model. One is made to be a chic urban car while the other has more tough design themes.
The styling for 500X gets the same passé inspired styling as the rest of the 500 family, but with a more extending front-end grille design, with chrome trim used around the front bumper. You also get tinted windows; roof rails and a boot-mounted lip spoiler.
The new 500X sits on a modified version of the SCCS platform that utilizes the Fiat Punto and Vauxhall Corsa. The boot space is 350 litres and Fiat is playing up the "extensive use of high-grade materials, top-quality finishes and practical storage compartments" in the interior. You can personalise the 500X in 12 different body colours and eight designs for the alloy wheels. There are three sizes for the wheel 16in, 17in and 18in.
There are four petrol and three diesel engines. The front wheel drive petrol powered 1.6 litre gives 108bhp when mated to a five-speed manual gearbox and a turbocharged 1.4 litre mated to a six-speed manual gearbox gives 138bhp. All-wheel-drive petrol models are equipped with a nine-speed automatic transmission as standard and are powered either by a 168bhp version of the turbocharged 1.4-litre or an 181bhp, 2.4-litre engine. The latter will not be offered in the UK.
The high tech includes features such as 'Drive Mode Selector' which offers three modes for engine, steering and transmission setting and brake. Auto is the most efficient and adjusts to all weather conditions effectively. The cabin technology includes 5.0 or 6.5-inch Uconnect colour touchscreen infotainment systems. Both have aux-in, USB connectivity and Bluetooth and can be operated via steering wheel remote controls and voice commands. A new Uconnect Live system integrates with smart phones. There is no word on the pricing yet as it will be announced closer to its UK launch.