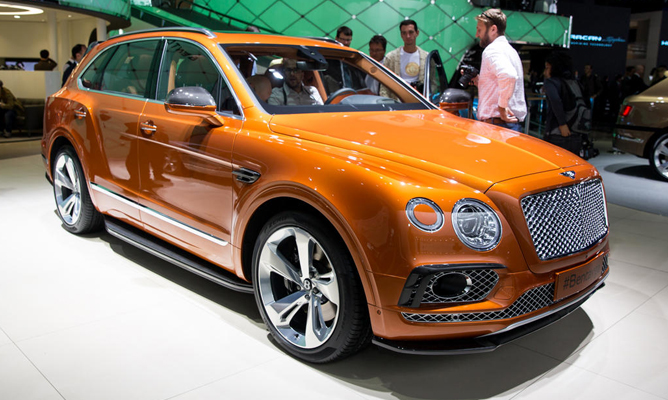 The all new Bentley Bentayga 2016 could be defined as the world's best SUV.
It is the most luxurious, most exclusive and the fastest SUV with twin-turbocharged engine. It is one of the most important launches in Bentley's history. Bentley has used the words, "entirely new kind of luxury". The latest SUV of Bentley Bentayga will open new horizons for the company, it will win the hearts and minds of SUV lovers.
Twin Turbocharged-Engine
The new Bentley Bentayga SUV has W12 twin-turbocharged engine with power output of 600bhp, and generates a super strong torque of 900Nm. The new SUV has eight-speed automatic gearbox.
Bentley has developed an electronic four wheel drive system for its new SUV which provides straight line performance similar to the super sports car.
It attains 0-62mph in merely 4.0sec and achieved a top speed of 187mph. You can't expect fuel economy and low carbon emission figures with the powerful W12 engine. It returns 22.1mpg of fuel and CO2 emission figures stay at 292g/km.
Eight Drive Modes
There are eight various drive modes in the car. The different modes can be selected for on-road drive and off-road drive.
The first four modes are defined as Sport, Comfort, Custom and Bentley, also known as on the road drive modes whereas the remaining four are defined as off road drive modes.
World's Finest SUV
You will hardly find air suspension modes in any SUV out there, but Bentley Bentayga has four different air suspension adjustments. It adjusts the ride heights which is a completely stunning and new feature. The driving position can be adjusted accordingly and there are 22 different electric motors to set the height and direction of driving seat.
The cabin has less space than its main rival Land Rover, but seats are made of super ultra-high quality leather material. Bentley Bentayga contains a price tag of £160,200, Bentley calls it the world finest SUV.