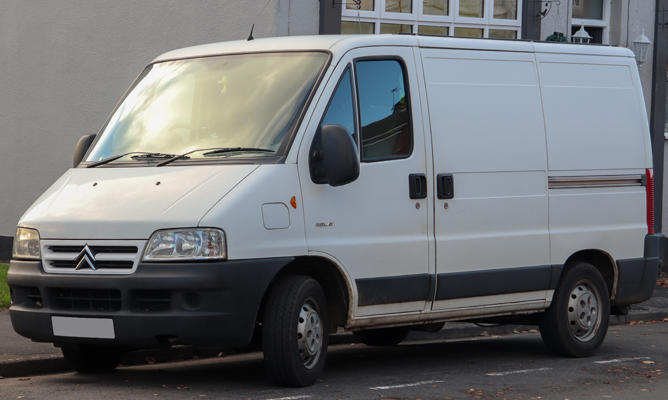 Citroen has put many efforts for the success of this vehicle and these are appreciated
Citroen Relay is a big, practically build and competent van. Due to aforesaid qualities, it is rightly a popular option in this class. Citroen Relay engines are also good performers with their power to pull.
All different models of this van are good to workhorses and variety in body styles make them versatile. Features you get inside the cabin are generous in number. The present version of the van was released in 2006 and then got two updates in 2014 and 2016.
Relay has many similarities with Peugeot Boxer and Fiat Ducato as the three built on the same platform. Citroen has put many efforts for the success of this vehicle and these are appreciated in terms of sale of its units.
The van is ready to take on challenges rivals may pose in different areas of performance, comfort and offering space. It has one of the best load capacities.
Three wheelbase variations and three different heights
Load area in the biggest Relay is as long as 4.1 meters and height reaches to 2.2 meters. Load capacity is 2310kg which is among the best load capacities among vans. You can select from four different lengths, three wheelbase variations and three different heights so you have a lot of choices.
Total 43 variants are made with different combinations and it is hard to beat this array. Luton van, drop-side, tip-up truck, crew van, chassis van and panel van are also present in the list of 43 variants. Width of load bay is also one of the huge in vans.
Load areas are quite low which makes loading and unloading less tiring. Nearside sliding door is present in all models as well as steel bulkhead. The front cabin has three seats and quite roomy for three adults. Total thirteen storage spaces are there to put your things while travelling.
Controls are placed well in reach of the person on driving seat. In this way, the cabin is designed nicely for maximum utility. Overhead space capacity is 22 litre and quite a good amount of space under seats of passengers. Driver and two other in the cabin do not need to put things in the load bay.
Different models with height, width and breadth variations are present in the line-up so you get a right-sized vehicle for our professional needs. Reconditioned Citroen engines are available for budget buyers. These units are made as good as possible by the professionals so that Citroen relay supply and fitting service can offer them with surety.
Relay models after 2016 come with 2.0-litre much-refined units
With a lightweight and responsive steering parking and moving in tight corners become smoother. Height of the van is a disadvantage at some car wash or multi-story parking areas. It is a heavy vehicle and can be categorized in a segment of lorry particularly the heaviest model of more than four tons.
Relay models after 2016 come with 2.0-litre much-refined units. These Blue-HDi engines have different power variants of 109bhp, 128bhp and 158bhp with 258lb ft torque. Previous models have a four-cylinder 2.2-litre diesel engine and 3.0-litre diesel engine.
All new models have all-wheel-drive configuration and six manual speed transmissions so you may miss the option of the auto gearbox. Engineers at Citroen make great efforts to keep the long term running cost as low as possible. The front bumper is made of three parts so in case of damage you just need to repair or replace one of three parts.
Driving a Relay makes you fan of it
Driver's seat is nicely elevated to offer a good view on the move. Driver seat as well as steering wheel position is adjustable so you will get to a comfortable position to drive it. The armrest is there to minimize the feeling of fatigue on a long-distance journey.
A DAB radio, Bluetooth and USB connectivity are standard throughout the range. Controls mounted on steering make things easier for the driver to bring these entertainment options in use while keep focusing on the road.
Driving a Relay makes you fan of it as it offers the most admirable driving experience to you. Ride comfort is good and handling is responsible for such a professional drive quality. Particularly in corners it remains composed which enhances the confidence of the person driving a commercial van.