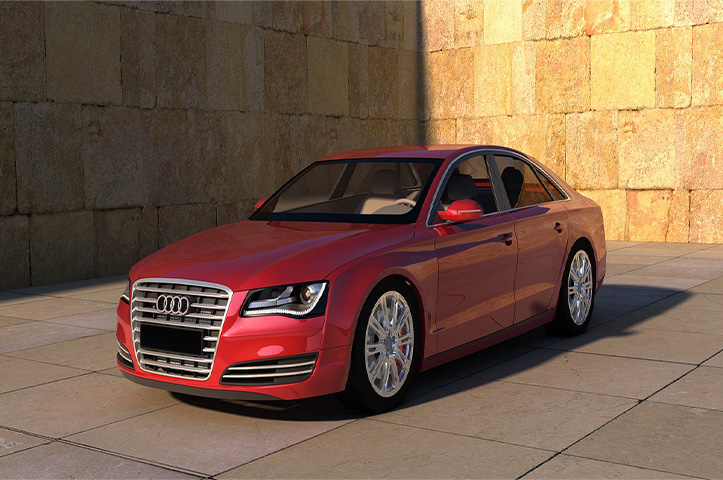 Audi A8, photogenic and insanely beautiful vehicle
Elegant and majestic Audi A8 is an amalgam of excellence and sophisticated technology. Such a grand and iconic vehicle is for those who have a scarcity of time. Such persons always remain busy in their domestic and official assignments and hardly get time to drive. Apart from it, on the safety side being so much busy, they cannot take the risk of driving. So they hire someone else to get behind the wheel.
Undoubtedly richest and highly powerful people prefer to use luxurious limousines or now Audi A8. Its rivals Mercedes S-Class and BMW 7 Series lag far behind. So it is the best of the best saloon to be chosen for having a luxurious and high-tech car.
Audi A8 powerful engines
The Audi A8 engine is highly powerful that are available; as V6 petrol 3.0-litre engine with a power of 335bhp, also known as 55 TFSI, another version available is of V6 petrol engine having the power of 443 bhp, and for diesel loving, the diesel version is also offered with a diesel engine of 3.0 litre having the power of 282bhp.
You can choose both diesel and petrol engines in your Audi A8 with a plug-in hybrid. Whatever engine you select; an Audi A8 eight-speed automatic transmission is selected. It is pertinent to mention here that in case of some accident or damage, you can buy Audi A8 Engines for Sale. This is highly fuelled efficient and quite obviously an environment friendly. Engine and transmission of Audi A8 are smooth and give a seamless journey.
Audi A8 is an extremely fuel-efficient engine. It emits very less hazardous emissions like CO2. Audi has never ignored focusing on environment protection. It fully endorses the efforts of environmentalists to save the environment. Reconditioned Audi A8 Engines suffice your needs completely instead of buying a new engine.
Proud ride and athleticism
There is no denying that Audi A8 gives you comfortable and contented ride. It is available inbuilt blend of proud ride and athleticism. There is an option with V8 having sophisticated suspension that makes an instant scan for the upcoming bumps on the road. Not only this, but it also offers measures to tackle these.
Though fuel economy estimates are not issued by the EPA so far, yet it is estimated that the six-cylinder A8 2020 gets 17 mpg in urban areas and 26 mpg on the highways. Scores of portals sell best quality Used Audi A8 Engines.
The soothing ambience of the interior
Interior of Audi A8 is a synonym of comfort. Passengers' space of rear seat is enhanced very much due to long wheelbase. So far as seating is concerned, five-passenger seating is made standard. Instead, you can have four seating package without a rear centre seat. In this package, rear seats with massage, ventilation and heating are provided. Even you get a heated foot massage.
Well, refined materials are used in interior designing and better could be had on your choice and budget. The soothing ambience and sober look of interior allures its passengers. Modest trunk capacity of 13 ft, is provided in Audi A8. Virtual Cockpit cluster of instruments of 12.3 inch is superbly wonderful to ease the driver as well as passengers.
Driver assistance features of Audi A8
Just like other high tech saloons, Audi A8 has all driver assistance features. When you are entangled in traffic crowd, the Traffic Jam Assist of Audi A8 very skilfully assists to come out with acceleration and braking.
Apart from it, some other safety features deserve to mention like emergency braking, adaptive cruise control and lane departure warning system. The boot capacity of Audi A8 is calculated as 505 litres having load bay of the same size like that of Mercedes S-Class. It can accommodate eight suitcases.