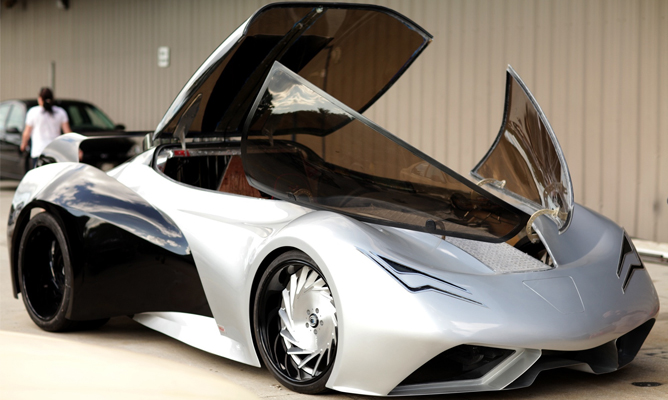 Every car enthusiast loves to have a muscle car, but only a few lucky ones get to have one of them. In the case of American WWE star John Cena, just one isn't enough.
Today known as WWE superstar, former World Heavyweight Champion, John Cena begun his wrestling career in 2000 with Ultimate Pro Wrestling. Soon he won the UPW Heavyweight Championship and in 2001, he signed up with World Wrestling Federation (WWF) which later on emerged as WWE.
In 14 years of WWE he has won 12 world titles including World Heavyweight Championship twice and 10 times WWE Championship.
His net worth is over $35 million and like all other wrestlers, he is also a huge fan of American muscle cars. But unlike others he is not a one car man; he loves to have them all and that's why he owns 20 of them. These include Fords, Chevrolets and many others with most powerful engines, list is given below;
1966 Dodge Hemi Charger
1969 AMC AMX
1969 COPO Chevrolet Camaro
1969 Dodge Daytona
1970 AMC Rebel Machine
1970 Buick GSX
1970 Buick GSX
1970 Mercury Cougar Eliminator
1970 Oldsmobile Cutlass Rallye 350
1970 Plymouth Superbird
1970 Pontiac GTO Judge
1971 Ford Torino GT
1971 Pontiac GTO Judge
1971 Plymouth Road Runner
2006 Dodge Viper
2006 Ford GT
2007 Dodge Charger SRT-8
2007 Ford Mustang SaleenParnelli Jones Limited Edition
2009 Chevrolet Corvette ZR1
2013 Gumball 3000 rally car (Custom Build)
The last one is named by Cena as the InCENArator and the major contributor to this Frankenstein creation is the reality show "Dream Machines". They used chassis and engine from a wrecked Corvette and then the whole design thing came from Cena himself.
One thing is for sure whenever you will look at this car, it will remind you of a futuristic car built for year 2072.